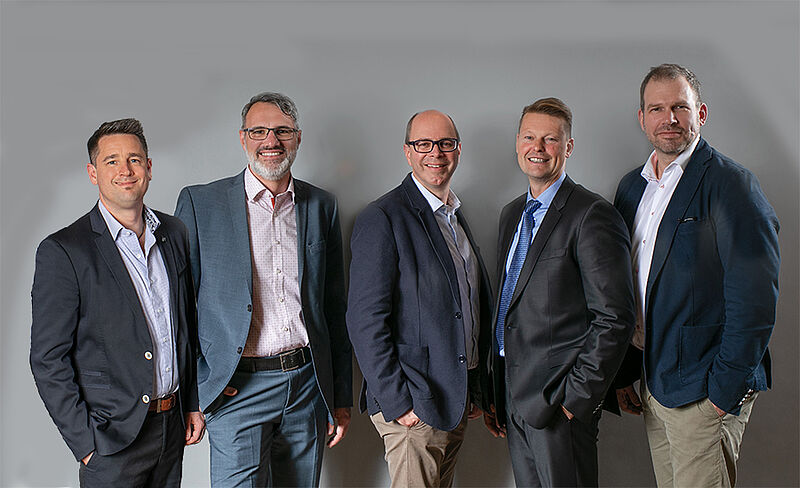 Dear friends, companions, ladies and gentlemen,
On 17 December 2021, our Cooperative, DENIC eG, commemorates its foundation 25 years ago, when it was established as a not-for-profit, independent service provider. We look back with pride at what we have achieved and created over the years.
From the start, DENIC has established and operated a fundamental infrastructure of the Internet in Germany with the German namespace .de. Mak ing this infrastructure available on a sustained basis, with highestpossible availability and security, has always been the mission behind what we do.
We are well aware of the special responsibility that comes along with this and we will continue to devote all our strength and expertise to it in the future.
Thomas Keller, Martin Küchenthal, Andreas Musielak, Sebastian Röthler, Dr. Jörg Schweiger
DENIC Executive Board
Greetings from the Supervisory Board
.de domains are part of Germany's critical infrastructure. They are managed by a self-regulated Cooperative in a most secure manner and with the best price-performance ratio worldwide, a model that is globally unique.
The Supervisory Board thanks all employees of DENIC for their commitment, which is the key to this success!
Dr. Johannes Loxen
Chairman of the Supervisory Board
Greetings from Friends & Family
We would like to thank the many companions who have helped DENIC to become what it is today − a strong community that looks to the future keen to make a difference.
Thank you very much for your congratulations and your stories!
DENIC Engagement in the Anniversary Year
Regional Tree Planting Project
The DENIC forest continues to grow: By the end of the year 1,000 trees will have been donated.
Christmas Donation & Wish Tree
DENIC gives a donation to the Frankfurt association for children suffering from cancer "Hilfe für krebskranke Kinder Frankfurt e.V" and gifts to children from the "Arche Frankfurt", an association for socially disadvantaged children.